In honor of my upcoming talk on urban green space at IDSA's annual conference, I'm resurrecting a few sketches from the notebook (if my "notebook," you mean a folder on a hard drive). I couldn't believe that it's been almost five years since I put them together. Enjoy!
(Some of these photos use Flickr photos. I never intended these for public viewing, and I've misplaced the author data, and even the original files. If one of the photos belongs to you or someone you know, let me know and I will add in a visible credit or take the photo down ASAP.)
Play-powered park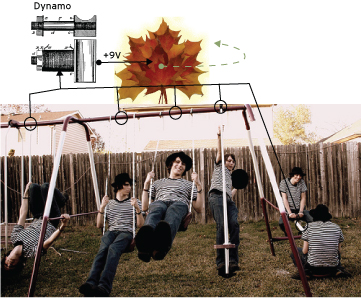 Using playground equipment - swings, teeter-totters, see-saws and others - generates friction, which could be used to generate electricity. The Play Powered Park uses children's play to power an animated sculpture (or more than one, depending on the amount of electricity that could be generated). The level of animation in the sculpture visualizes the amount of activity in the park.
Urban migrations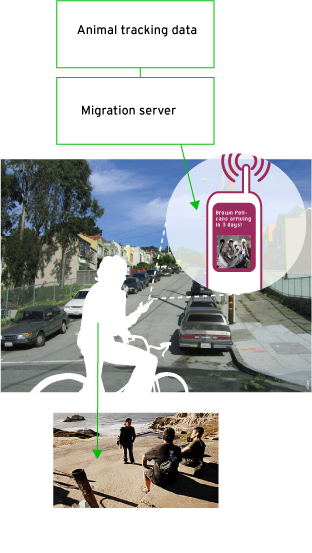 (note the 2007-style antenna on the phone!)
San Francisco provides many habitats for migrating animals, especially its lakes and waterfronts. Urban Migrations helps create a sense of anticipation about these seasonal migrations, then helps families plan visits to the parks and open spaces where they can be found. By sending participants messages about the upcoming arrival of animals such as swallows, whales, and geese, it makes the 'velocity' of animal travel across the natural and built landscape more visible.
Bounce games
Augmenting everyday rubber balls and playing field goal posts with proximity sensors gives playing fields and playgrounds the capacity to provide interactive experiences similar to those kids enjoy at home. At the same time, the spaces and balls can still be used for traditional games. Since the balls remain inexpensive, they can be easily replaced.